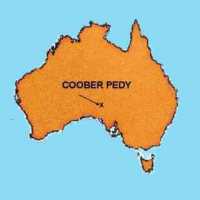 A location map for Coober Pedy, Southern Central Australia
In 1915, opal was discovered in the area now known as Coober Pedy, in the central deserts of Australia. The miners who arrived there found what they thought was a barren inhospitable area. Water and food sources were to remain a constant problem for the next seventy years. These miners soon began to change the landscape of the desert by adding the white mining dumps for which Coober Pedy has long been famous and which, visitors have often remarked, give a lunar crater-pocked appearance to the mining fields that surround the town.

Some of the harsh desert that surrounds Coober Pedy
In 1922 the miners named the growing town Coober Pedy as the European pronunciation of the Aboriginal name kupa piti, which, it is now thought, means literally, 'young uninitiated boys' waterhole'. And this is how the newcomers have seen it ever since – as a dusty hole in a huge inhospitable desert.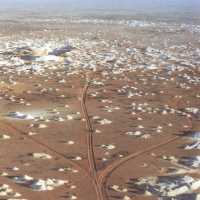 An aerial photo of some of the opal fields surrounding Coober Pedy
Photo: Peter Caust © 1989
But this country has been home to the Antakarinja people since the Dreamtime. They have been able, not only to live, but to thrive, in this country, where few other people could have survived. Here is presented some of the plants and animals that these resourceful people have been able to use as food and medicine, over the time that they have lived in this beautiful, but harsh, environment.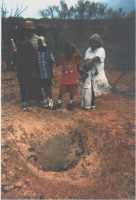 Digging for water in the Breakaway country
photo Gwen Crombie
There is no permanent fresh water for many hundeds of kilometers and the ability to find water and food was essential for survival