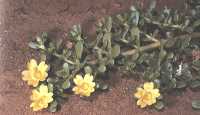 Wakati - Pig Weed
photo Tim Low
Wakati, the Pigweed (Portulaca oleracea) is a common fleshy groundcover with small yellow flowers and small black seeds. It can be found in sandhill and breakaway country, and is most prolific after rain.
The seed, although small, is a very important food source. Whole plants can be gathered up when the seed has set and piled together for several days until all the seed has fallen to the ground. The plant displays the time when it should be collected by changing the colour of its stems from green to pink. Up to 10000 seeds can be produced on each plant. These are harvested from beneath the pile of plants, cleaned and either roasted before being ground into a paste, or cooked after grinding. Cakes of this paste are baked in hot sand with ashes and coals. Wakati seed is very nutritious, being 28% protein and 16% fat, with a high concentration of vitamin E.
The leaves and stems of this plant are also edible raw or cooked, and the cooked roots can be eaten.
Calandrinia spp. Parakeelya
A similar small succulent herb, the Nyurngi (Parakeelya) (Calandrinia spp.), also has edible seed, however, these are only used in times of hardship as the seed only ripen gradually, so little seed can be collected at any one time. During emergencies, the leaves and stems can be eaten raw to obtain moisture.