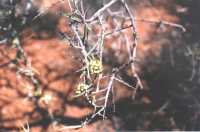 Flowers of the Utiralya - the Bush Banana
The Bush Banana is a vine that grows to the top of other shrubs and trees, where it forms a mass of vegetation and flowers. It has small cream flowers, large pear shaped fruit and seeds with tufts of white, silky hairs. This vine is common through the central deserts, where it grows in sandhill and breakaway country.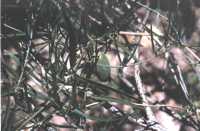 The unripe Kalkula - the unripe fruit of the Bush Banana
Utiralya is extremely versatile, with almost the entire plant being edible. The young Kalkula (fruit) have a pleasant tangy flavour when eaten raw, or they can be roasted. Older fruit are roasted, but the outer rind may be eaten raw. Kalkula have an exceptionally high thiamine level – 2900 m g/100g – ten times that of any cultivated food. It is easy to see why this fruit was valued as bush tucker.
The flowers of Bush Banana are also tasty when raw, and the shoots, seeds and leaves can all be eaten. The young leaves may be eaten raw, while the older leaves are better when steamed. In times of food shortages, the large string of tubers can be dug up and cooked.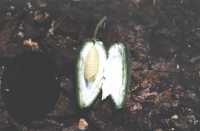 The opened unripe Kalkula - (lens cap of camera beside for scale)