Urpa or Tar Vine (Boerhavia coccinea) is a low groundcover commonly found in both sandhill and breakaway country of the arid zone. It has hairy, triangular leaves and small white, purplish or pink flowers. The stems can run for up to three metres along the ground, and are very sticky, especially the young tips.
The carrot-like tuber of this plant is an important food in bad years as it is available even when other plant foods are not. The root, tasting like parsnip, is baked and the tough outer skin removed before eating.
Celerio lineata livornicoides Hawkmoth Caterpillar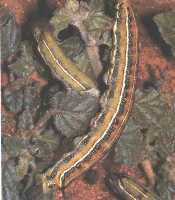 Anumara - Hawkmoth Caterpillar
photo Tim Low
Another important food found on the Tar Vine is the Anumara (Hawkmoth Caterpillar) (Celerio lineata livornicoides). It has a greenish and reddish-brown body with black and cream spots and stripes, and a distinctive black tail spike. These caterpillars eat the leaves of the Tar Vine. When gathered they are stored for approximately one day so all the eaten plant material is passed through, yandyed to remove the dung. Alternatively they can be prepared quicker by removing the head and squeezing the stomach contents out. Anumara are cooked by adding hot ash to a dish with the caterpillar and gently shaking. They taste somewhat starchy and can be stored for a long time.
Another use for Urpa is as a trap for small game birds such as finches. The sticky young growing tips are spread around small waterholes where these birds come to drink. The birds get entangled in the vines and are easily captured. This is a common method used by children.