Mai Putitja and Irmangka-Irmangka

Bush Tucker and Bush Medicine

around Coober Pedy

Mingkul
Nicotiana spp. Native Tobacco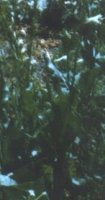 Minkul - Native Tobacco
photo Gwen Crombie
Mingkul the Native Tobacco (Nicotiana spp) is a soft herb that grows to 60 centimetres. It has creamy white flowers and grows in both sandhill and breakaway country.
Mingkul is mainly used as a narcotic. To make a chewing tobacco it is first dried in the sun or over a fire, then broken up and mixed with the ash of River Red Gum bark or Mulga twigs, and finally formed into a small moist ball. This tobacco can be chewed or kept behind the ear where it is absorbed through the thin skin. It has an extremely strong nicotine concentration, and should only be used by people who are used to it.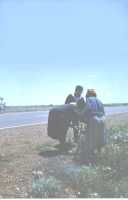 Collecting Minkul - Native Tobacco
photo Gwen Crombie
The chewing tobacco can be used as a pain relief and sedative. Also juice from the leaves of the Native Tobacco can be spread over the skin where bites and stings have occurred. It is especially soothing for centipede bites and the rash formed by the Wanka, the Processionary Caterpillar (Onchrogaster spp.).