Mai Putitja and Irmangka-Irmangka
Bush Tucker and Bush Medicine
around Coober Pedy
Kupata
Santalum lanceolatum Bush Plum
Kaputa or the Bush Plum (Santalum Lanceolatum), also known as Sandalwood, is a small tree up to two metres. It has thick drooping grey-green leaves and small cream flowers. The fruit is a dark purple colour and is very fleshy. The wood and oil have a distinctive perfume. Kupata is a common plant in breakaway and sandhill country, and fruits after rain. It taps into other plant's roots, and must use them to survive.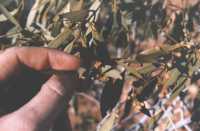 Kupata flowers - Flowers of the Bush Plum
The fruit is very high in vitamin C, and are eaten raw or dried and reconstituted with water later. A dye can be made from the fruit, and the wood is used for carving artefacts.