Kampurara, the Desert Raisin (Solanum centrale) is a small shrub that grows in sandhill country after good rains and fires. It has velvety leaves, purple flowers and, when ripe, the fruit is yellow. The fruit dries on the plant, looking something like a chocolate brown raisin. This fruit stays on the bush for most of the year.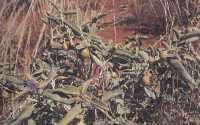 The fruit and flowers of Kampurara - the Desert Raisin
photo Peter Latz
The fruit is very nutritious, and can be eaten raw in its dried state. Alternatively, they can be picked and ground into a thick paste, rolled into a ball and stored for a considerable period. Later these balls can be soaked in water or ground to a paste with water, and eaten uncooked.
Solanum ellipticum Bush Tomato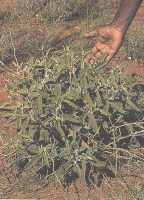 Tawaltawalpa - Bush Tomato or Wild Tomato
photo Tim Low

A similar plant, but not as widespread is Tawaltawalpa (Bush Tomato) (Solanum ellipticum), which is used in the same way.