Aparuma, the Red Mallee (Eucalyptus sociallis), is a multi-stemmed Eucalypt with red branch tips (hence its name) and cream coloured flowers. The bark is rough at the base of the tree and smooth above. It grows to five metres. This mallee is found in breakaways country, where it prefers limestone soils.
The leaves of this plant have Ngapari (Lerps) (Psylla eucalypti) growing on them, an insect that produces a sugary scale to cover itself. This scale has a sweet taste, and can be eaten straight off the tree. Aparuma flowers are also used to obtain honey for eating, and the roots of this plant provide a source of water in the arid zone.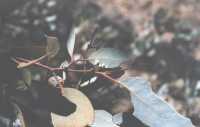 Ngapari - lerps - on Red Mallee Leaves
The leaves of Red Mallee also contain Eucalypt oil, known for its ability to cure the symptoms of colds and flu. Leaves from this plant can be used to sleep on, and the body heat will release the oils. A liniment for massaging areas of the body affected by cramps and pain is also made by boiling the leaves in water.