Mai Putitja and Irmangka-Irmangka
Bush Tucker and Bush Medicine
around Coober Pedy
Acknowledgments
This is a joint project between Umoona Aged Care and the Coober Pedy Campus of TAFE, funded by DOME (Don't Overlook Mature Expertise) and the South Australian Office of the Ageing.

This project would not have been possible without the help of Eileen Crombie, Ivy Stewart, Eileen Brown and Peggy Cullinan who shared their knowledge and skills.

Thanks also go to Gwen Crombie, Jimmy Palmer, Rita Fueg and Jack Crombie for their research assistance.

The project was managed by Janet Skewes. Senior Editor was Nicholas Crouch. Desktop editing by Kate McLead and Nicholas Crouch. Layout was supervised by Janet Skewes. Assistance was generously provided by the Coober Pedy Campus of Spencer Institute of TAFE and by the District Council of Coober Pedy. Web pages were compiled by Edward Radeka.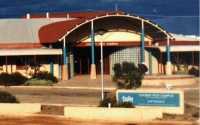 Coober Pedy Campus of the Institute of TAFE